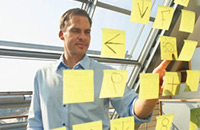 At Keystone, we deliver comprehensive technical solutions designed to serve real business purposes. We help our clients to leverage their information assets to achieve measurable business benefits.
In particular, we focus on comprehensive automation of daily business routines such as logistics, finance, operational planning, human resource management, reporting, data gathering, consolidation, reconciliation, and other aspects of day-to-day operations.
Bridging the gap between business and technology, we provide business and technical services covering all aspects of technology-enabled business operations.

What services does Keystone have for your business?